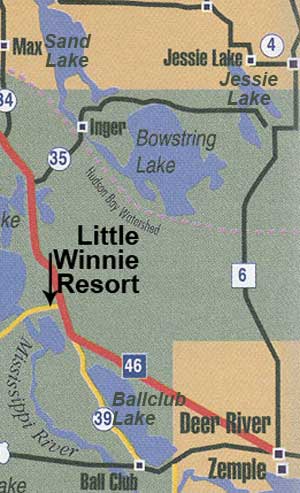 Little Winnie Resort is located in the heart of Minnesota's best fishing country.  With direct access to the walleye-rich water of Little Winnie Lake as well as close proximity to world-class walleye fishing and perch fishing on Lake Winnibigoshish – the resort is the best place to headquarter your next Minnesota fishing trip.  As if that weren't enough Little Winnie Resort is also just a few miles from well-known fisheries like Cutfoot Sioux, Bowstring Lake, Sand Lake and Jessie Lake.
Bowstring Lake
Bowstring Lake is located approximately 18 miles north of Deer River and contains 9,220 acres of Minnesota's top fishing waters for Walleye, Northern Pike, Crappie, Bass, Panfish and Jumbo Perch.  The Minnesota DNR lists Bowstring Lake as one of the state's top walleye fishing lakes. According to data from the DNR's latest lake survey, Bowstring is managed primarily for walleye and secondarily for black crappie, northern pike and jumbo perch.
Sand Lake
Sand Lake is known as a tremendous walleye lake due to an aggressive stocking program through the DNR and the Sand Lake Property Owners Association as well as its plentiful natural reproduction. It also boasts an abundant supply of crappie, jumbo perch, northern pike, largemouth and smallmouth bass and panfish. Sand Lake is a 4,328 acre naturally fed lake with a maximum depth of 70 feet, a median depth of 17 feet, and 19.9 miles of beautiful shoreline, all nestled in the Chippewa National Forest.
Jessie Lake
Jessie Lake is a 1,753 acre lake that boasts an abundant supply of walleye, northern, crappie, jumbo perch, and small and largemouth bass. The Lake is approximately four miles long and one mile wide with 9.2 miles of shoreline. Jessie has a maximum depth of 42 feet and an average depth of 22 feet. The Minnesota DNR manages Jessie Lake primarily as a walleye lake and is currently stocked with walleye fry every three years. The Jessie Lake Watershed Association is a very active group that is working with the DNR to restore walleye spawning habitat and maintain or improve water quality.
Ball Club Lake
Ball Club is a naturally fed 5,111 acre lake with a maximum depth of 95 feet and a water clarity of 12-14 feet. The lake is part of the Mississippi River Watershed, has excellent structure, and is fed by many deep underwater springs. Anglers love the tremendous fishing here. The lake boasts an abundant supply of walleye, northern, bass, jumbo perch, crappie and panfish.
There are more than 1,400 lakes in Itasca County and Little Winnie Resort is perfectly situated in the middle of the best of them.  Stay with us and fish some of the most famous waters in our great country.  For more information on Minnesota lakes visit the Department of Natural Resources' website at:  www.dnr.state.mn.us.