Ice Fishing for Walleye, Perch & Crappies on Lake Winnibigoshish & Little Winnie
Ice fishing in Northern Minnesota can quickly replace the monotony of winter with some wild and intense fun. Whether you want to hang out with your buddies, or entertain the family, ice fishing is a great hobby for all ages. During winter, the fishing here is excellent and the quality of the fillets is incomparable. All you need to get started is an ice auger, a general understanding of the lake, the fish you are pursuing, and the proper bait and tackle. Little Winnie Resort offers a full selection of ice fishing tackle, bait and equipment – plus the knowledge to always put you on the ice where the hot bite for walleye, jumbo perch or crappie is. Whether you want to fish Lake Winnibigoshish, Little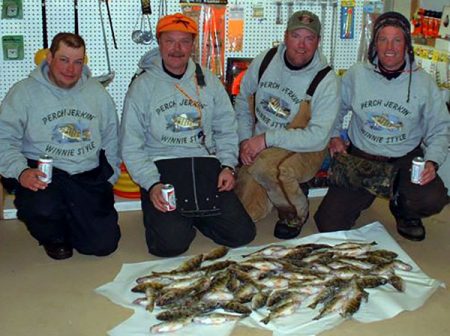 Winnie, Bowstring Lake, Sand Lake, Round Lake or even travel up to Red Lake or Cass Lake, we have the central location and comfortable lodging to keep you coming back year after year.  Give us a call today to book your cabin – 218-246-8501.
Ice Fishing Basics:  Your primary ice fishing equipment should include: safety equipment, an ice chisel, an ice auger or drill with sharp blades, an ice scooper for removing ice from the hole, a chair or bucket to sit on, a trash bag or a bucket for fish and litter, and, of course your rod, reel and tackle. The ice chisel is necessary for testing thin ice, chipping holes and widening your fishing hole once it is cleared. It is also useful to keep the hole free of ice. The auger will allow you to make additional holes during the course of the day. You may want to consider some optional equipment including: an ice house or wind break, portable fish locator, an extra pair of dry gloves, portable heater, fishing map, food, warm beverage, rod holder to keep your outfit off of the ice, shovel to remove deep snow and a sled to transport all of the equipment.
Ice fishing is ideal just after the first solid freeze, but there are more than enough fish to go around all winter long. Always keep safety in mind! Before going out on the lake, determine the safety of the ice, look for other ice fishermen and use your ice chisel to test the ice as you move outward from the bank. The best drilling spot is determined by how long the lake has been frozen, its depth, your familiarity with the underwater structure, and the time of winter you are fishing.
Some experienced anglers prefer deeper lakes for ice fishing. They believe the best fishing lasts longer and is more consistent from first ice through late March. Typically, deeper lakes are more productive than shallow ones during winter. The fish are usually in the 20-foot to 40-foot range and holding near sunken timber, gravel bars, deep points and the bottom. The hottest bite in early and late winter is often found at 15 to 20 feet. Shortly after first ice, walleyes, perch and sunfish are extremely active and can be found on or around weed-lines, deep points or drop-offs. In late winter, melting snow brings the fish back into shallower water.
Ice fishing tackle differs from your spring and summer gear. Ice fishing rods must be short and solid with large graphite eyes, because ice forms on the eyes. Many anglers use spin-casting reels that are resistant to ice formation on the spool and are easier to use when you have cold, stiff fingers. Jigs and minnows are the standard bait. The key element to good bait is action and scent; some fishermen like to put minnows on their jigs. Like humans, the fish are more lethargic in the winter and will approach the bait cautiously and take it slowly.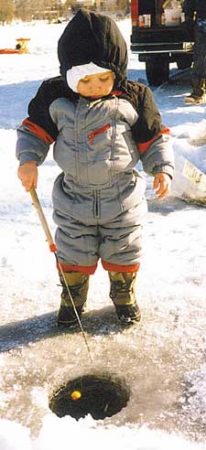 Minnesota's most popular species to catch in winter are walleyes and panfish, such as jumbo perch, bluegills and crappies. Bluegills and sunfish gather in schools and can be caught during the day. Crappies and walleyes bite well just before sundown. You can catch northern and trout any time of day. You can also try to catch muskies and bass, although they don't seem to bite as actively as other game fish. Game fish swim in many different lake types in the Northland. Certain species thrive in rivers, lakes and reservoirs because special conditions are present for their existence. Rivers are the most abundant, and produce the widest variety of game fish species. The large shallow sand bottom lakes and bays are normally best suited for walleye & perch, while the shallow weedy lakes and bays are better suited for panfish and northern pike.
No matter what the season, an angler needs to look for fish in areas that provide the oxygen, food and water temperatures necessary for survival. Location is vital when ice fishing, as fish tend to concentrate in smaller, more specific water. A portable fish locator makes the mission of finding a prime location much easier. Never go out on the ice without investigating the most recent ice conditions. Before fishing on a lake for the first time, learn as much about it as possible by questioning local bait shops, fishing guides, resort owners, and other fisherman. Focus your efforts on a lake that is known to contain a good population of the species you wish to pursue.
Whether you seek challenge or just relaxation, ice fishing is an excellent winter sport. It doesn't take long to get "hooked" on ice fishing!
Important – make sure you carry your Fishing License and Proper Identification along with you
Call 218-246-8501 today to plan your Minnesota ice fishing vacation at Little Winnie Resort.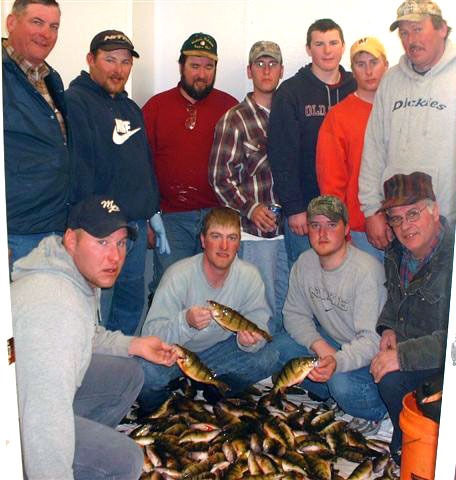 Search for lake specific information including regs, fish species, stocking reports, & lake maps.
Notice to Ice Anglers:
Ice Fishing Meal Preparation
While on or fishing waters with size restrictions, all fish for which the size restriction applies must have their heads, tails, fins and skin intact and be measurable except when a person is preparing and using such fish for a meal.
Packed Fish Labeling
When packing fish, labels identifying the fish must include the name of the lake where the fish was caught and the size of each of the fish that are regulated under a special size limit.