Little Winnie Resort Well Known for Excellent Ruffed Grouse Hunting
One of the best resorts for Ruffed Grouse Hunting in Minnesota, Little Winnie Resort sits on 70 heavily-wooded acres offering ruffed grouse an ideal habitat with lots of cover. Beyond our property lies thousands of acres of public hunting ground in the Chippewa National Forest. Grouse hunters can base their hunt from Little Winnie Resort making it easy to return to our comfortable cabins at the end of the day. We are hunters ourselves and will be happy to give you a few pointers to make your grouse hunt more successful and your stay with us more enjoyable!
Grouse Hunting Tips and Ruffed Grouse Habitat Info.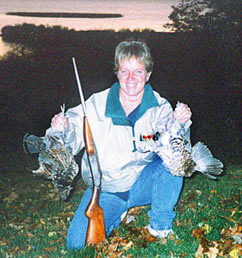 Looking for Great Minnesota Grouse Hunting? Minnesota is the top ruffed grouse-producing state in the U.S. No other state harvests as many ruffed grouse each fall or provides as much public hunting land containing ruffed grouse.
Ruffed grouse are a native woodland bird about the size of a small chicken. The bird is noted for its fan-shaped tail marked by a broad, dark band. Some ruffed grouse–called red-phased birds–have chestnut-colored tails, and the gray-phased birds have gray or slate-colored tails. The bird also has a concealed neck ruff that the male puffs out during courtship displays.
Male ruffed grouse make a well-known drumming noise that sounds similar to a distant lawnmower engine. He drums by beating his wings in the air, starting slowly as a series of thumps, and then, as beating speeds up, the sound resembles a drum or engine. The drumming occurs on logs, boulders, tree roots, or other elevated sites known as drumming-logs.
Call  218-246-8501 today to plan your Minnesota grouse hunting vacation at Little Winnie Resort.