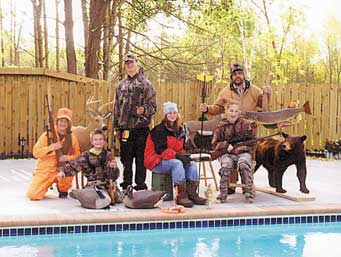 Meet Your Hosts - The Graupmanns
Hamming it up for the camera… meet the Graupmann Family, owners of Little Winnie Resort.Hello! My name is Shannon and my husband Doug and I are the proud owners of Little Winnie Resort. We have four children: Shawn, Mariah, Alisha, and Cody, who love life at the resort as much as we do. Oh, and I can't forget to mention our two dogs, Beaver and Tootsie!
I am a native of this area as I grew up a little north of here in Dora Lake, Minn. Prior to buying the resort we owned Graupmann Electric in Plato, Minnesota down by Glencoe. Life was very busy with our business and our family – too busy! When we bought a cabin in Dora Lake, Doug fell in love with the forest and the lifestyle. Since we both love to hunt and fish we decided that we wanted to live in this area year around. So we sold our company and our house and…well…here we are. We love life in northern Minnesota and love resorting. Every year we have the pleasure of meeting many wonderful people and we always look forward to seeing our repeat customers whom we've come to think of as old friends.
Since purchasing the resort in 2000 we have worked hard to make many upgrades. We enlarged the lodge to add a restroom, a bait and tackle shop, a gift shop and an indoor fish-cleaning house. We also added a heated swimming pool, a large patio out font, and we've purchased new boats and motors for our rental pool. We have updated and renovated our accommodations and have completely remodeled three of our cabins to date. We also enlarged our seasonal campground which includes full hookups and a centralized shower house.
Over the years we have tried to add services that make your vacation more enjoyable like babysitting, fish cleaning, and professional fish guiding. And in the lodge we offer a big screen TV, game room, bar, groceries, pizza, sandwiches, and good conversation in a family atmosphere.
We strive to offer great year around Minnesota vacations. We love what we do and it shows! Call 218-246-8501 to plan your next "up north" vacation at Little Winnie Resort.
Looking forward to seeing you…
Doug and Shannon Graupmann