Minnesota Darkhouse Spearing Rentals at Little Winnie Resort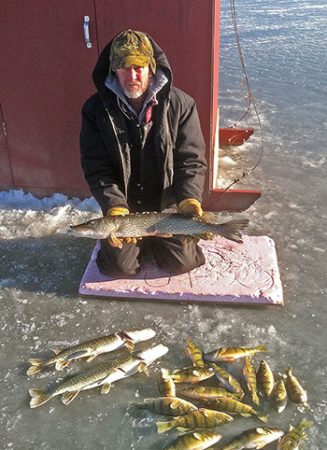 Darkhouse spearfishing is a method of harvesting fish through the ice using artificial fish decoys suspended in the clear water. When a fish comes up to see the decoy, you spear it. A large hole is needed in order to spear the fish and you need a fishhouse that is completely dark. (Hence the term, "Darkhouse".) After you first enter a darkhouse it takes a few moments for your eyes to adjust to the darkness. Once your eyes adjust, you lower your decoy down the hole into the water and get your spear ready. Darkhouse spearing is usually used to target northern pike, although other species are sometimes sought depending on state regulations. It is legal for Non-Residents to spearfish and angle in Minnesota. Click here to purchase your spearing fishing license from the Minnesota DNR's website.
Darkhouse Spearing Northern Pike in Minnesota
In Minnesota, both state residents and non-residents are allowed to spearfish in a darkhouse.  You can spearfish and use regular angling techniques; and there's nothing like angling in a darkhouse.  The ice-fishing hole below you becomes a big-screen TV – you can see all the fish, the bottom of the lake – and best of all, all the activity beneath the ice.  From watching a school of bait fish dart through the field of view to catching a quick glimpse of a walleye in the background waiting to seize an opportunity to strike, anyone can enjoy the classic predator and prey drama that unfolds in the depths of the lake. The hole in the ice is a window to a whole new world.  It's a great way to fish and enjoy nature.
Little Winnie Resort offers darkhouse rentals.
Little Winnie Resort rents darkhouses set up for winter spear fishing on Little Winnibigoshish Lake.
10 4′ x 6′ darkhouses
two 6′ x 6′ two-person darkhouses (2-man houses have two benches with one hole)
one 8′ x 12′ (2-man houses have two benches with one hole)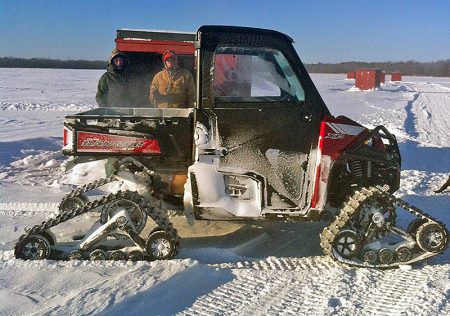 Our spearing darkhouses are heated with LP gas and have 20″ x 34″ holes. Each morning we go out, turn on the heat and clear the hole for you so everything is ready to go. We have decoys and live bait – large and small suckers and chubs; and there is a full bait shop a half mile away. We'll even drive you out to your spearhouse and bring you back. All you need to bring is your own spear and spearing pin and be ready to land that monster pike. View our darkhouse rental rates and then fill out our Check Availability Form for more information, or Call us now at 218-246-8501.